May Newsletter
Welcome to the second issue of our Art Vision 2020 newsletters and thank you so much to all the people who replied! We hope that Level 3 has enabled many more of you to get back into doing what you love and building up your businesses and work where possible. We promote the message to Shop Local! by connecting with more people on line and supporting local businesses during these challenging times by shopping for NZ made creations. Wildwood Gallery's doors may be closed, but our creativity is still open for business!
For instance, each day this week Sue is inviting people to take a Virtual World Art Tour on Face book by sharing her paintings of some of the beautiful places we have visited around this amazing planet. (See Sue Graham - Artist at Wildwood Gallery.) Sue Graham - Artist at Wildwood Gallery
We are both offering live Art Tutorials on Zoom soon, so please contact us if you are interested in participating.
And while our April offer of free delivery is still valid, we are also adding a new offer for you this month!
Wildwood's May Art Vision Special Offer
Free set of personalised art cards with commissioned paintings
Commission an original painting by Sue before June 30, 2020 to receive 10 complimentary greeting cards, printed with your very own special commissioned painting! Click here to see examples and here to see the wide range of subjects Sue has successfully painted in watercolours, acrylics and outdoor paints for clients over the last few years.
Robbie's latest wood creations
I haven't turned much in the way of new pieces lately but have revisited some earlier pieces that have been sitting in the gallery and I'm so pleased with the results.
For more details on them please visit my Tripod series here. First one pictured here is Tripod 3 and the second is Tripod 5.


Sue's Recent Paintings
Taranaki Treasures, a large acrylic on quality NZ made canvas showcasing native NZ flora.
Caldera, a small watercolour inspired by our Lake Taupo's volcanic origins.
The Beautiful Anxiety of Life, a mixed media acrylic on canvas panel, motivated by the strange events of Autumn 2020 and a quote by Rilke.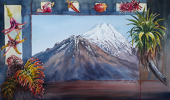 Let's stay in touch over the next few months - we hope you will find our newsletters enjoyable viewing. At Wildwood Gallery we appreciate your continued support of our goal to provide our top quality original art, all locally inspired, designed and created right here in beautiful NZ: visual arts from our hearts!
Coming up in later issues:
More special creative offers each month, surveys, competitions, art-making projects (See Sue Graham - Artist at Wildwood Gallery for her 3 April painting project instructions!) and our planned art event for the end of 2020: watch this space! Please feel free to forward this newsletter on to other art lovers.
If you would no longer like to receive this news letter please click unsubscribe
Robbie and Sue Graham
Wildwood Gallery, Waitahanui, 141 State Highway 1, RD 2, Taupo 3378
Please use this email:
wildwoodgallery@xtra.co.nz
ph: 07 377 0469 Home/Gallery ph: 027 237 8173 Robbie
website: www.wildwoodgallery.co.nz